GyG: FEATURED STORIES: EXCERPTED-BACKLINKED, ETC…!!!!!
FEATURED STORIES
Reuters | Revolutionary Guard propaganda official says joint military pact of Syria's allies would be implemented in case of 'stupid American attack'.
2 Comments
Times Of Israel | Maneuver, including army, air force, and Revolutionary Guards, to coincide with timetable of a much-speculated possible Israeli strike.
3 Comments
YNet News | Netanyahu slams western powers over weak approach to Iran's nuclear program; says until red line is set, Tehran progress will continue. 'Sanctions a burden but fail to delay program'.
3 Comments
*****
MORE!!!!!
LINK BELOW!!!!!
*****
Tony Cartalucci | In violation of international law, NATO-backed terrorists plan civilian airport raids.
1 Comment
Susanne Posel | The US government has been involved in creating designer viruses onto unwitting populations that have been the obvious causation of viral epidemics.
Ethan A. Huff | Mass chemical spraying WORSE than mosquitoes.
Prisonplanet.com | Alex discusses the impending preparations for a crackdown on civil unrest.
4 Comments
Prisonplanet.com | Filmmaker Michael J. Murphy breaks down the second installment in his series of films exploring the hidden agendas behind geo-engineering.
Prisonplanet.com | Alex shares his thoughts on the bigger picture…
47 Comments
Prisonplanet.com | Ron Paul's Senior 2012 Campaign Adviser Doug Wead gives WeAreChange an exclusive interview about the Ron Paul RNC delegate controversy.
35 Comments
Pepe Escobar | You'd better not mess with Muslim Brother Morsi.
1 Comment

London Telegraph | Up to 1,000 British troops are expected to be investigated for crimes allegedly committed during the Iraq war, it can be revealed.
No Comments

YNet News | Vienna sources express concern that recent findings by nuclear watchdog as to Tehran's atom endeavors may accelerate West's plans to attack nuclear facilities.
1 Comment

Melissa Melton | Latest gruesome development highlights the fact that there's nothing "humanitarian" about the U.S. and NATO's interventions or regime changes.
8 Comments

Prisonplanet.com | Paul Joseph Watson discusses the ongoing situation in Syria and the occupation under the guise of "humnitarianism".
3 Comments
Kurt Nimmo | Republicans claim they will get rid of the Sixteenth Amendment and replace it with a VAT.
1 Comment

Prisonplanet.com | Alex discusses the Fed's gearing up to print more fiat currency.
1 Comment

Zero Hedge | Away from the stifling media crush, staid Ben Bernanke is dashing Reverse Robin Hood, lackey pawn of the Neofeudalist Financial Lords who shamelessly steals from the poor to give to the parasitic super-rich.
1 Comment

Zero Hedge | A very noisy gappy day with much larger volume than in recent days (which all dried up in the afternoon session until the close – for the heaviest volume day in a month) in US equities.
2 Comments
Prisonplanet.com | Carefully crafted artificial scarcity deception designed to empower a takeover of earth's resources and control of its peoples.
No Comments

New American | The secretive conferences where delegates are hammering out the details of the Trans-Pacific Partnership (TPP) are effectively rewriting the law for the United States, particularly in the area of intellectual property.
No Comments

Prisonplanet.com | Luke Rudkowski encounters a rare phenomenon.
18 Comments

Prisonplanet.com | Students and parents at two San Antonio schools are in revolt over a program that forces kids to wear RFID tracking name tags which are used to pinpoint their location on campus as well as outside school premises.
4 Comments

TODAY ON THE ALEX JONES SHOW
Black Hawks
over America
On this Friday, August 31 edition of the Alex Jones Show, Alex confronts the heated rhetoric swirling around the RNC and the brazen attempt by the establishment and its corporate media attack dogs to criminalize political speech by labeling words such as "Chicago" and "birth certificate" as racist. Alex also talks about the increasing number of military drills across America as the elite gear up for social in political chaos in the event of an economic implosion. On today's worldwide broadcast, Alex talks with U.S. Army Lieutenant Colonel Anthony Shaffer, author of Operation Dark Heart, a book destroyed by the Pentagon, and Congressman Walter B. Jones, who introduced House Concurrent Resolution 107, calling for the impeachment of Obama if he attacks Iran or Syria without prior and clear authorization of an Act of Congress.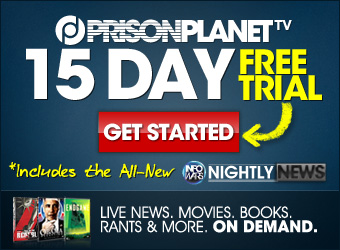 © 2012 PrisonPlanet.com is a Free Speech Systems, LLC company. All rights reserved. D
Related articles