Posts Tagged 'Afghanistan'
US and UK forces end combat operations in Afghanistan by handing over major bases to local securityABC Online ^ | October 26, 2014 | ReutersPosted on 10/26/2014, 8:22:31 AM by John WThe
last US Marines unit and final British combat troops in Afghanistan have officially ended their operations by transferring two crucial military bases to the Afghan military.The American and British flags were lowered and folded up for the final time at the regional headquarters of the international military at Camp Leatherneck in southern Afghanistan.
US Marines, British and Afghan soldiers formed a guard of honour, saluting as the national anthems of all three countries were played over a loudspeaker, 13 years after foreign troops intervened in the country to topple the Taliban.Excerpt
Read more at abc.net.au …
​
PLEASE FEEL FREE 2-FORWARD/ReBLOG! -GyG BLOGGINGS! .Thanx!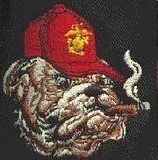 Read more…