Posts Tagged 'Gunnery Sergeant'
Alan Stang: EXTERMINATION…
HOW WILL IT BE DONE?
June 11, 2013
Gunny G Edit Leave a comment Go to commentsbarbflagbarbflag Photo credit:
GunnyG1345 :
By: Alan Stang
Regular readers of these diatribes are aware that one of the conspiracy for world government's persistent goals is a massive reduction of the earth's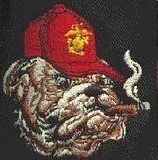 population.
There are just too many people out there for the conspirators to control, so they want to eliminate some of them.
The "ideal society" that results would include the few conspirators at the top and the rest of us slaves at the bottom to serve them. Over the years, they have concocted many spurious justifications for the purpose, including the "ecology movement," Zero Population Growth, phony energy "shortages," etc.
That is one of the reasons the birth rate has fallen among bamboozled American women – and especially among European women – while it booms among illegal aliens….
EXCERPT !!!!!!!!!!!!
via Alan Stang: POPULATION EXTERMINATION… HOW WILL IT BE DONE? | BLOGGING BAD w/Gunny G ~ "CLINGERS of AMERICA!".
PLEASE FEEL FREE 2-FORWARD/ReBLOG! -GyG BLOGGINGS! .Thanx!
(RECENT POSTS)
(

FOR LONG SCROLL-DOWN ENTIRE BLOG.PAGE

)
***
GUNNY G: IF THE TRUTH BE KNOWN…
***
Gunny G: COCKED AND LOCKED!
***
Related articles