Posts Tagged 'O'Reilly Factor'
---
Juan Williams: Victim or Enabler?
By Arnold Ahlert Full Story
"Well, now that I no longer work for NPR let me give you my opinion. This is an outrageous violation of journalistic standards and ethics by management that has no use for a diversity of opinion, ideas or a diversity of staff (I was the only black male on the air). This is evidence of one-party rule and one sided thinking at NPR that leads to enforced ideology, speech and writing. It leads to people, especially journalists, being sent to the gulag for raising the wrong questions and displaying independence of thought."—Juan Williams on his firing from National Public Radio
Obama's Boss Buys NPR
By Joy Tiz Full Story
Just days after declaring himself "helpless" to stop the Republican avalanche coming next month, George Soros paid $1.8 million to purchase NPR.  The money is supposed to be used to hire 1oo "news" reporters for his Impact of Government project.  Soros's OSI is using the project to target state governments, as he is doing with his nefarious SoS campaign.  Obama's boss is conniving to install regime-friendly operatives in Secretaries of State offices nationwide.
Dem Congressman: 24 years in military not public service
By Online Full Story
Soros-Funded Documentary Embraces Left-Wing Terrorists Who Plotted To Kill Republicans
By Matthew Vadum Full Story
I have my debut at Big Hollywood. It's a piece on George Soros funding leftist documentaries.
Here's the top of it:
NPR: Nuanced Partisan Reportage
By William Kevin Stoos Full Story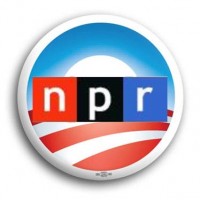 Reposted from October 1, 2009
National Public Radio—financed partially with public funds and partially through individual and corporate donations—in theory has a rule that its reporters may not engage in politics.  Having listened to NPR and a variety of other news outlets for years (in order to attain some semblance of perspective and balance) and having admittedly donated money to my local NPR station in the past, I have noticed a disturbing trend in their national reportage.
Biodiversity: Replaces Climate Change As The Weapon For Political Control
By Dr. Tim Ball Full Story
The reality that global warming and climate change are natural and current patterns are within historic patterns is taking hold. Fundamental common sense embedded in the majority of people joined with truth pursuers and the healing perspective of time to bring reason. As always, those who profit politically, financially, or both, fight a rearguard action. Partly to defend the misdirection, but often to move the focus, while maintaining the target. Some of these different foci hover around the edge of the main battleground, but most are unaware how they're interconnected.
Western Jihad, Anwar al Awlaki & "the Saudi Factor"
By Doug Hagmann Full Story
As Americans, we were promised by President Bush that everyone responsible for the wholesale murder of nearly 3000 of our family members on September 11, 2001 and those harboring or aiding them would be brought to justice. Sadly, that promise was only partially true under the Bush administration, and demonstrably untrue under the current Obama administration. It is currently hindered by an unprecedented level of conflicts of interests within the Holder justice department.