A classic line from the old comic strip Pogo, once declared that, "we have met the enemy, and he is us!" That unfortunately seems to be the case today. What about the Dems you ask? Well, what about them? We all know what liberal Dems do – they want to tell us where we can live, what we can build on our property, take away our guns, tell us who we can hire, regulate our healthcare, take away our SUV's and add layer upon layer of big government that will require more and more of our hard earned dollars. That's because they know what's best for us and can spend our money more wisely than we can. That's what liberals do. We all know that, so aren't they the enemy?

Well yes, but they aren't really the problem. The problem is that those who are supposed to keep them from doing all of this, are actually doing it themselves, and more effectively than any liberal could…………

EXCERPT!!!!!
Gunny G: BLOGGIN' BAD!~MAKE AMERICA "AMERICAN"! AGAIN!!!!! (FUBO!) BRING BACK AMERICA's HAT! (THAT BAD ASS DEPLORABLE FEDORA!) ~ $H!T-CAN THE STAIN, STIGMA, STENCH AND SHAME OF "THE PRINCE OF FOOLS"~ AND: "FINALLY," ~ BRING THE "POF" TO JUSTICE!, EXPOSE! AINOs (AMERICANS IN NAME ONLY), AND FLUSH THE SWAMP~POWER-FLUSH! "TWICE!"-("FLOATERS" Y'KNOW!) -POTUS .45 TRUMP COCKED and LOCKED!.....-ONE RIGHTEOUS MAN--IF WE CAN KEEP HIM! ~ Illegitimi non carborundum..!
Another election has come and gone and once again the GOP has demonstrated their uncanny ability to snatch defeat from the jaws of victory.
As I watched the vote totals updating in the battleground states, it became apparent very quickly that the GOP establishment template of "Democrat Lite", would once again fail to prevail. When will they ever learn?
I thought back to a column I wrote in 2005 and realized it is just as relevant (if not more so) now as it was then. What follows is the original article: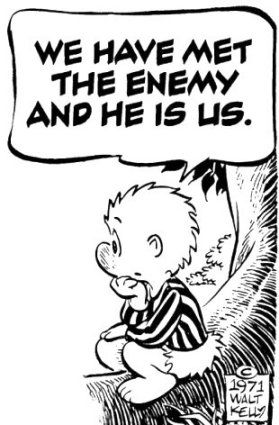 I recently returned from the Colorado Rockies after an invigorating vacation. The tranquility of those majestic mountains, added to the fact that for several days I was removed from the news, the internet and indeed the toils of life allowed me a chance to step back from it all.
View original post 486 more words